Water Leak Detection
PRO leak detection in Adelaide
Mains water leak?
Think you might have a mains water leak? Need a second opinion on pool repairs? Call or message us now to see how we can help!
Commercial & Domestic Water Leak Detection Service
Got a leak but don't know where it's coming from? Let the team at Pro Leak Detection Service put their skills and experience to work for you.  Our professional leak detection team come fully equipped with all the latest high tech, non-invasive equipment to quickly and accurately pinpoint the exact source of your leak inside or outside of the property.
Adelaide Water Leak Detection Services
Discovering a leak in or around the home or a commercial building is highly stressful due to the potential damage it can cause.  Much of the pipework in our homes or offices is buried underground or concealed within the wall cavities so rapidly pinpointing the exact cause of the problem is critical which is where our team can help.

External Water Mains Leak Detection
When a high-pressure pipe bursts, it is easy to spot the leak when water spurts out of the ground.  However, many external pipe leaks can go unnoticed for long periods as the water seeps out undetected without any visible signs on the surface. If you are noticing unusually high water bills or continual damp patches around the garden or driveway there is a good chance you may have a water leak from the mains.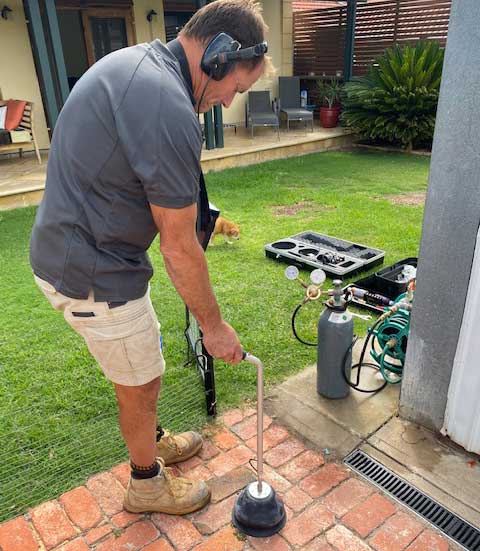 Mains Water Leak Test
You can test for a water mains leak by following these steps
Turn off all taps in the house
Turn off all appliances that use water eg. dishwasher and washing machine etc
Turn off the tap at the side of all toilets
Then record the reading at the water meter – record both the black and red digits
Wait for 30 mins to one hour
Read the meter again
If the water meter figure has increased during this time this suggests that you have a mains water leak and you can call on us to investigate and find it for you.

Signs Of An Internal Water Leak
Got persistent water stains on your ceiling? Hearing unusual dripping sounds behind the walls?  Got mould or damp around the walls, ceilings or floors?  Tiles falling off the wall?  Paintwork bubbling or peeling?  Then let out team take the guesswork away, we'll find and locate the source of your problem.

Water Ingress Problems
Our team are regularly called upon to investigate water ingress or liquid escaping in bathrooms, laundries, kitchens, windows, balconies and internal walls.  Be it a shower breach or leaking roof tiles our professional leak inspectors will track and trace your leak with precision and accuracy.
Cutting Edge Leak Detection Without Destruction
Finding a leak is stressful enough so we will not add to your stress.  Our friendly technicians will turn up on time and come fully equipped with cutting edge thermal imaging cameras, helium gas tracers, and CCTV to accurately pinpoint the source of your leak.  With unrivalled experience and specialist equipment, we can effortlessly detect water leaks behind your walls, ceilings and floors–so you can relax, we don't pull up your floors and drill walls to find your leak.
Need Help With Water Ingress & Leak Detection? Call the friendly team at Pro Leak Detection Services