Pro leak detection
Adelaides No.1 Choice For Water Leak Detection
Pool leak or mains water leak ?
Think you might have a pool leak or mains water leak?
Need a second opinion on pool repairs?
Specialist Pool Leak Detection Service
Pro Leak Detection is Adelaide's leading leak detection service specialising in finding & fixing leaks in swimming pools, spas, water features/fountains as well as general leak detection in and around the home.
Pool Leak Detection & Repairs
General Water Leak Detection
Pre Purchase Pool Inspections
High Tech Water Leak Detection
Our team carry all the latest high tech acoustic equipment including underwater hydrophones, CCTV, helium gas tracers, thermal imaging and surface scanners.  We can non destructively pinpoint the exact location of a leak in the pool structure or any pipework hidden beneath concrete slabs, lawn or garden beds, behind walls, driveways and paved areas.  We've got such a comprehensive range of testing equipment that we're the people the plumbers, builders and swimming pool professionals call when they can't find the source of a leak.
Expert Advice & Unrivalled Experience
Pro Leak Detection is a local family run business, owned and operated by Greg and Linda Hoffler. With over 30 years as a professional pool builder, Greg has unrivalled expertise and knowledge in swimming pool design, building, leak detection and repairs. His specialist skills combined with our cutting edge technology mean we can find leaks that others can't.
If we can't find your leak – you don't have one.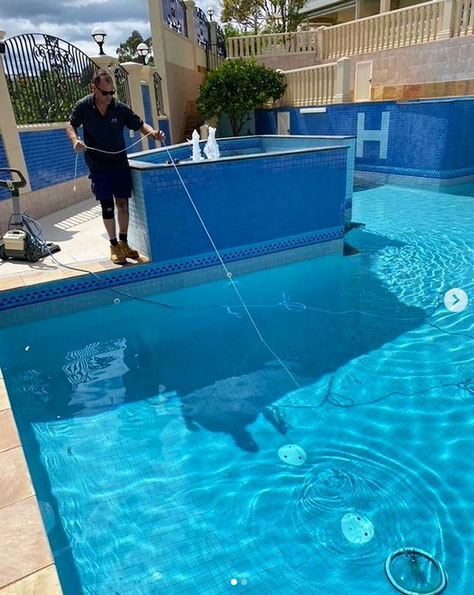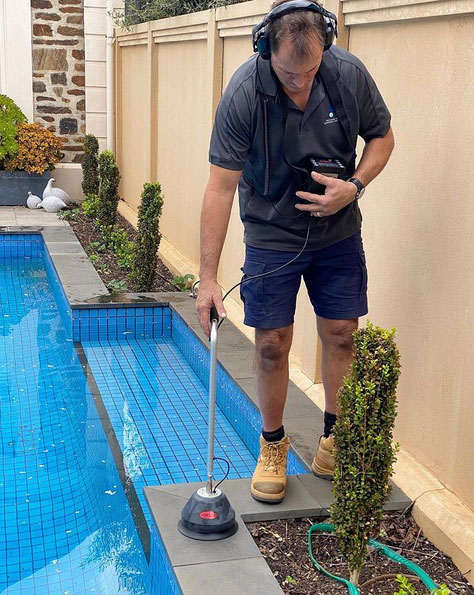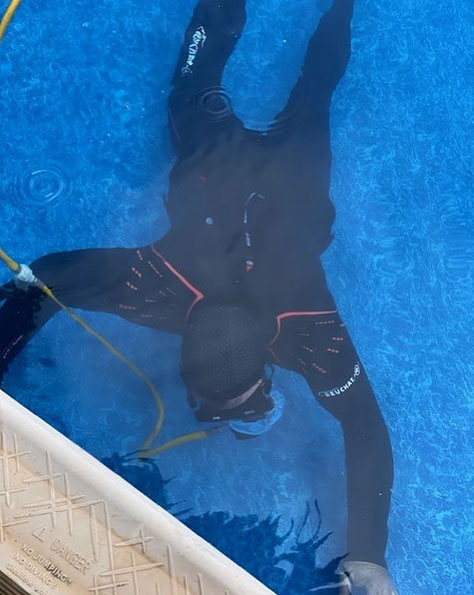 Swimming Pool Leak Detection & Repairs
We know how stressful having a pool leak can be so we offer a complete find and fix service.  Our professional team carry out repairs on commercial and domestic pools, spas and water features in metro and rural areas, undertaking work within a 100 km radius of Adelaide CBD.

On The Spot Swimming Pool Repairs
Most of the leaks we find can be repaired on the same day.  For your convenience, our vans are stocked with plenty of spare parts and underwater sealants to fix all the common issues found with pools.  Plus there is no need to drain your pool as we have all the tools and specialist equipment to carry out underwater repairs.

Scheduled Repairs
Issues such as skimmer box replacement, underground leaks and pipe replacement are often more invasive repairs that require specialist parts and groundwork.  Where we identify one of these issues we'll prepare a detailed quote and schedule the repair at your earliest convenience.
Professional Leak Detection Service
Pro Leak Detection are proud members of the Swimming Pool and Spa Association of Australia (SPASA) so you know you've got a professional on the job.  We are fully licensed pool builders, and our team are insured and police checked.  As a family business, we take great pride in our experience and trusted troubleshooting capabilities.  Quality and integrity are at the heart of everything we do and we are dedicated to delivering professional solutions & cost-effective repair outcomes.
Service You Can Rely On
Our reputation has been earned by consistently delivering expert advice, excellent customer service and quality pool repairs.  Customers come first and we guarantee
We'll turn up when we say we will – so you'll never be left waiting around & you'll always be updated if plans change.
If you've got a leak we'll find it and repair it.
We'll give you good honest advice, explain the repair options and give you a fair price.
Happy Clients Are Our No 1 Priority
We pride ourselves on making leak detection and pool repairs stress-free and easy.  But don't just take our word for it here is what our many happy clients have to say.
'We have been trying to find our spa leak for months now and it's been driving us crazy – Greg found it within 2 hours and the best thing is he's getting straight onto the repairs – not having to deal with multiple trades/people for the one problem is brilliant. excellent pricing too'
Carla, Woodforde
Happy Clients Are Our No 1 Priority
We had a leak, lost a tile of water in a few hours called a few companies to see if I could get someone out soon one company couldn't come until Tuesday, another one said I needed to dig up myself and they would fix it, called Linda she called Greg who was not far from us at another job, came over as soon as he finished the job he was on, pressure tested, found the leak, dug it up all fixed in no time, brilliant service, friendly, efficient, and you can hardly tell where Greg dug up the grass, highly recommended thanks for a job well done
Angela, Athlestone
Happy Clients Are Our No 1 Priority
In the lead up to Christmas, I was losing 5mm of water level from the pool every 10 mins. Pro Leak Detection was the only company that would visit me before Christmas on a Sunday and found that it was a filter leak problem ( In a relatively new filter). The backflush path was leaking and although that couldn't be completely fixed, a manual closing valve was installed to prevent further leakage during normal operation. The collar of the filter was also not tight enough and was fixed as well. Very satisfied with the logical and overall professionalism. Got my pool cleaned by Christmas for the family to enjoy!
Stephen, Hallett Cove
Happy Clients Are Our No 1 Priority
Greg and Linda came out and replaced my hydrostatic pressure valve due to a massive leak, they also inspected my pool for other leaks. They went out of their way on Australia day to fix it because it was urgent, I highly recommend them to anyone who needs pool repairs, the price was excellent, and the service was second to none.
Give them a go you won't be disappointed
Ben, One Tree Hill
Happy Clients Are Our No1 Priority
Linda and Greg came out today (Sunday) to look at our system with no suction from the pool.  Greg knew exactly what to do and diagnosed the problem successfully, leaving everything running perfectly.  It's great to find people that are so proficient at what they do and easy to deal with. I'd have absolutely no hesitation in recommending them.
Steve, Crafers
Happy Clients Are Our No1 Priority
Can highly recommend this business. Our pool pump was not running properly and two other pool maintenance companies could not figure out what the problem was. Greg from Pro Leak Detection was able to diagnose the leak problem and fix it promptly. Pool now back up and running again. Very friendly people too.
Callie, Fulham
View more reviews on Instagram and Facebook
Got A Water Leak Problem You Need To Be Solved?

Get In Touch – We're Here To Help
If you got a pool leak, water ingress or simply got some questions about a possible water leak, we're happy to help!  As Adelaides' leading high tech leak detection team we can find the leaks that others can't, so call or contact us to see how we can help you.