Pool Leak Detection
PRO leak detection in Adelaide
Pool leak ?
Think you might have a pool leak?
Need a second opinion on pool repairs?
Helping Families With Swimming Pool Leak Detection & Repairs
With over 30 years in pool building, leak detection and swimming pool repairs our professional team know pools & spas inside out.  We know all the common issues, all the potential weak spots and how and why most leaks occur so we'll get you sorted in no time.
Signs Your Pool or Spa May Be Leaking
There are some telltale signs to watch out for that may indicate you have a leaky pool –
Loss of Water
One of the key signs to indicate a potential leak is the loss of water in the pool.  Pools will naturally lose a certain amount of water through evaporation but if you find you are constantly losing water and topping the pool up more frequently than usual you may have a leak.   You can quickly and easily confirm this by conducting a bucket test.
High Use Of Chemicals
When water leaks out of your pool so does the chemicals its been treated with.  When you are frequently topping up the pool, the chemical concentration gets diluted and consequently more chemicals are needed to keep the pool water balanced.
Subsidence
When water starts leaking through the pool structure or underground pipes it can cause the ground to become saturated and unstable.  This may result in sunken areas of paving or lawn, wet spots around the garden and retaining walls or it may cause the pool fence to move and shift alignment.
How To Perform a Bucket Test
Make sure the pool is at its normal level.
Fill a 10L bucket with pool water 25mm from the top of the bucket.
Place the bucket on the first or second step of the pool. You might need to put rocks in the bottom to keep it from floating away and mark the water level inside the bucket.
Mark the water level of the pool on the outside of the bucket.
Operate the pool normally for 24 hours.
After 24 hours, compare the two levels. If the pool water goes down more than the water level inside the bucket, there is probably a leak.
Making Leak Detection & Swimming Pool Repairs Stress-Free & Easy
Our professional team have all the skills and equipment to locate your leak and get it fixed quickly.  The majority of leaks we detect can be repaired on the same day so you'll be leak-free and stress-free in no time. 

All Pool Types
We've got the full range of equipment for leak detection on concrete, fibreglass and vinyl-lined pools including highly sensitive acoustic listening devices, surface scanners, helium gas tracers, CCTV and pressure testers.  Our comprehensive leak detection service covers all aspects of the pool from the pipework and equipment to the physical structure of the pool above or below ground.

Comprehensive Leak Testing
We find the leaks that others can't because we've got cutting edge equipment, unrivalled experience and a tried and tested assessment protocol.  Our leak testing regime includes:
Pressure testing pool filtration & plumbing lines
Blockages & Pump priming
Plate testing to skimmer body box
Electronic surface scanner to detect leaks in the Internal pool lining (fibreglass or vinyl)
Structural testing – dye testing on internal surfaces, main drain/hydrostatic valves, underwater lights and all plumbing penetrations.
Acoustic and tracer gas leak detection
Leakalyser electronic water loss monitoring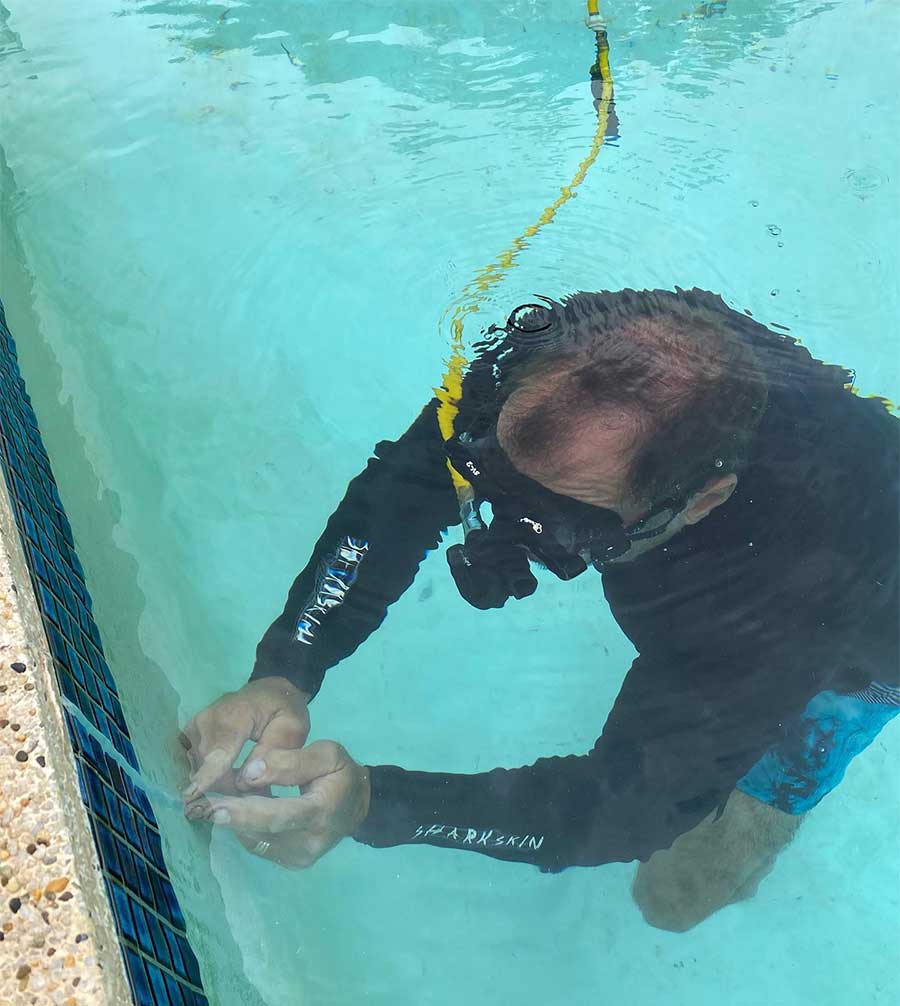 Commercial or Domestic Pools
No job is too big or to small for the team at Pro Leak Detection Service.  From a water feature or small freestanding spa to a commercial swimming pool, we have the equipment and expertise to locate and repair any water or air leaks.

In-Floor Cleaning Systems
We have extensive knowledge of in-floor cleaning systems.  If you are experiencing installation or operational issues we can troubleshoot, find and repair your system to keep your pool sparkling and clean.
Leaky Pool Repairs – Problem Solved
To make your swimming pool repairs stress free and easy we'll take care of everything including clearing any blockages in underground pipes, pool plumbing replacement, underwater structural crack repairs and skimmer box repairs or replacement.  Plus if we need to dig out underground pipes we'll also reinstate your concrete, tiles or pavers so you don't need to worry about a thing.
Want Your Leaky Pool Problem Gone
Pre-Purchase Pool Inspections
Buying a new home is an exciting and fun time so don't get caught out buying into a problem pool.  It's heartbreaking to buy a new home with a sparkling pool only to find you are up for a large repair bill to get the pool working properly.  Many people don't think twice about getting a building and pest inspection done but often the swimming pool is overlooked and this can be a costly mistake.
Peace of Mind
Our pre-purchase pool inspections will give you peace of mind and tell you everything you need to know about the pool.  We'll test the structure, suction and functioning of the pool and give you a detailed report on our findings.  You'll get photos of any problem areas along with a list of recommendations for maintenance that may be required.
Pool Inspection Reports
We will issue your pool inspection report within 24 hours of our visit so you'll have plenty of time to make any decisions in your cooling off period.  We are happy to talk you through our findings and supply indicative costs on any repairs that may be required.
To find out more or book a pre-purchase pool inspection call or message us now.